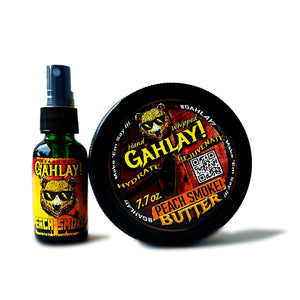 Soften and set yourself apart with GAHLAY! PEACH SMOKE Beard Butter & Beard Oil BUNDLE! Its fusion of delicious peach and pipe aromas will elevate your day with irresistible confidence. Crafted with the essence of Georgia's ripe, kernel-pressed peaches and a harmonious tobacco blend, it creates a symphonic aroma that captures the senses. CEO Matthew "MATTMAN" Harris has put his expertise into ensuring the perfect balance of sweet and savory. Picture the essence of Carolina pipe tobacco woven together in a beard alchemy masterpiece. This is no ordinary oil; it's lightning in a bottle. With a subtle, enchanting sweetness, now's the time to indulge in PEACH SMOKE and redefine what it means to make a statement. No tobacco or nicotine included.
EVERY purchase comes w/ FREE shipping, FREE stickers, FREE Topps cards & FREE extras!

Handcrafted in the Upstate of S.C. with highest quality essential & 100% natural oils.